Wattle Downs in South Auckland was another new area for us to explore. The Wattle Downs Walkway goes around the edge of the peninsula that extends into Manukau Harbour, at one spot there are views through to Manukau Heads.
The day was very calm – the water was like a mirror, and there were also threatening grey clouds hanging overhead.
The walking route is also great for cyclists, prams/buggies and dog walkers (on leash and off leash dog exercise areas).
There are many points of interest along the way, and friendly people to say hello to. We stopped and spoke to a resident whose house looked out towards Manukau Heads – he told us that they get to view amazing sunsets over the harbour.
There are wetlands and ponds active with shore birds – if you are a keen bird watcher be sure to take your binoculars.
The only thing missing in the area is a cafe.
UPDATE March 2015 ** The shared walkway/cycleway has been extended from Hadley Wood Drive to Aberdeen Crescent.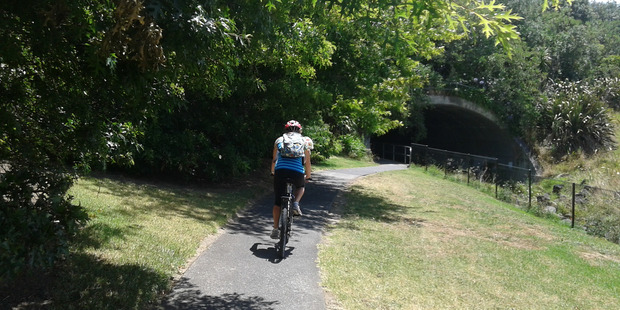 Suitable for Family cycling: Frangipani Ave to Bluewater place, 10km each way.
Description: Mainly level paths, one set of steps (which can be avoided). Suitable for users of average fitness and mobility. Suitable for cyclists.
To see: Manukau Heads, Manukau Harbour, Wattle Farm Wetland Reserve, shore birds
Time: approx. 100 minutes (about 8.7 kms). Dog off-leash areas. Childrens playgrounds. No cafe. Public Toilets may not be open due to vandalism issues (see image below).
Start from: Wattle Farm Reserve MAP

Stay on track…get your detailed guide and map (AS-067 Wattle Downs Loop) over at our Walks Store   and our Book Store (one of 12 walks featured in our books "Coastal part 1", "Dog Friendly Walks part 1" and "Best of the South").
(Click on the photos to enlarge)